Instagram Highlights are a catalogued collection of your past Instagram Stories. However, unlike Stories, Highlights do not expire after 24 hours. They live on your Instagram profile below your contact information and above your regular posts. Highlights are sometimes referred to as 'albums' because they can be organised into categories and themes to suit different purposes.
The Highlights feature is fantastic for small businesses because they have a prime position on your profile and are a great way to introduce yourself to your followers and share specific information with them. This article and the video below will show you how to create an Instagram Story Highlight and the best ways to use them.
What's the difference between a Story and a Story Highlight?
Unlike regular Instagram Stories that disappear after 24 hours, Instagram Stories Highlights can live permanently on your profile. They are a curated collection of your previous Instagram Stories that your followers can tap through and watch any time they like.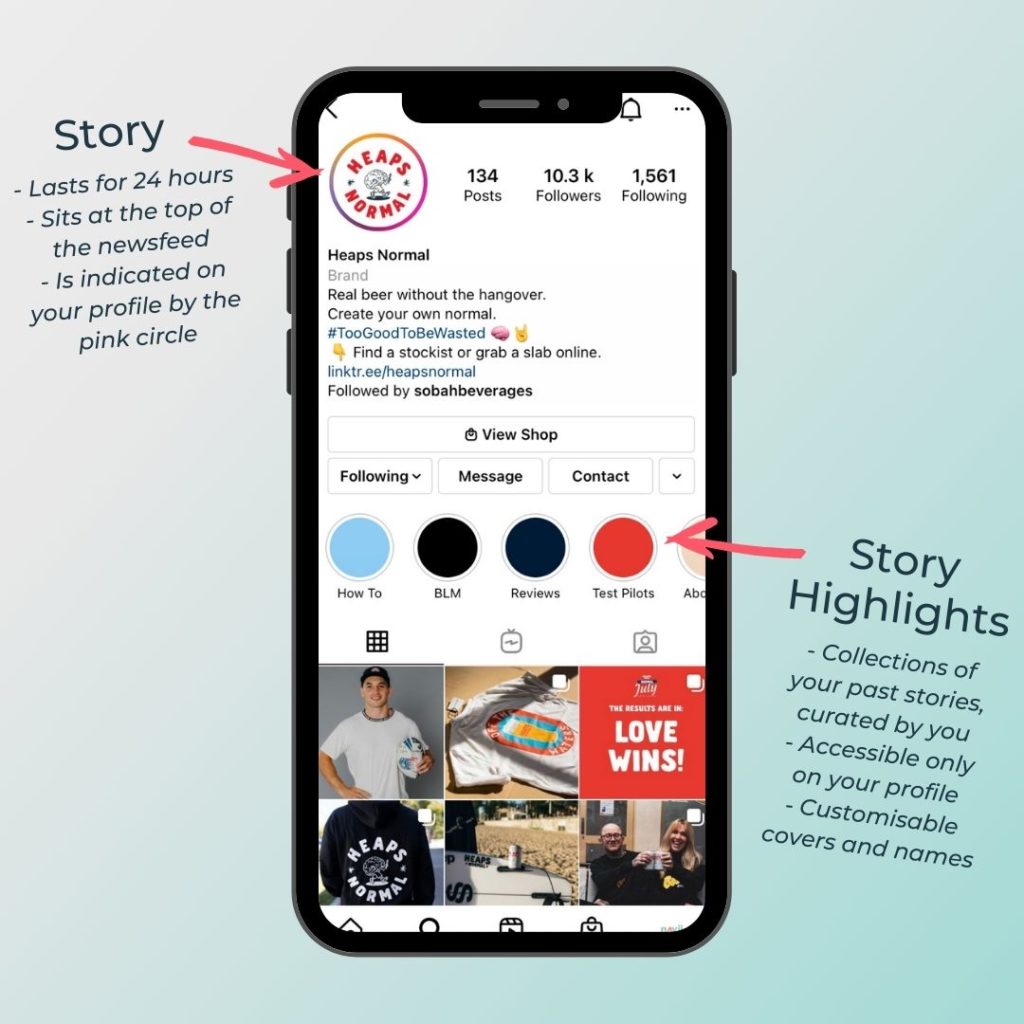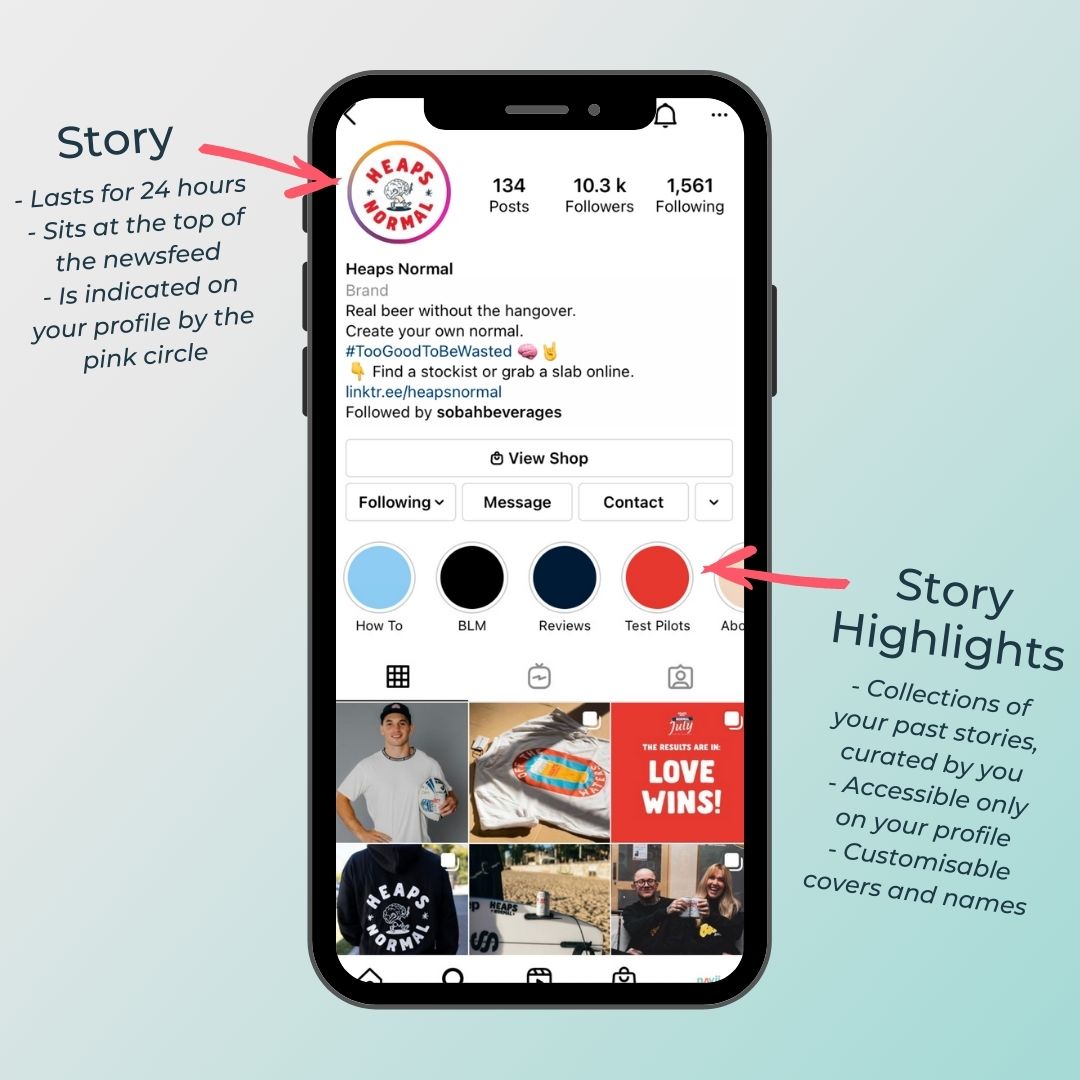 Possible uses for a Story Highlight
There are many reasons you might create a Story Highlight. Consider the kind of information that your audience would be interested in learning about your business.
At 150 characters, your Instagram bio does not give you much space to explain who you are, what you sell and what your mission is. Consider creating some of the below highlights to give your audience the opportunity to get to know you better without having to scroll through all of your previous posts. Have a look at the accounts run by other businesses in your industry to see what kind of content they include in their story highlights for inspiration.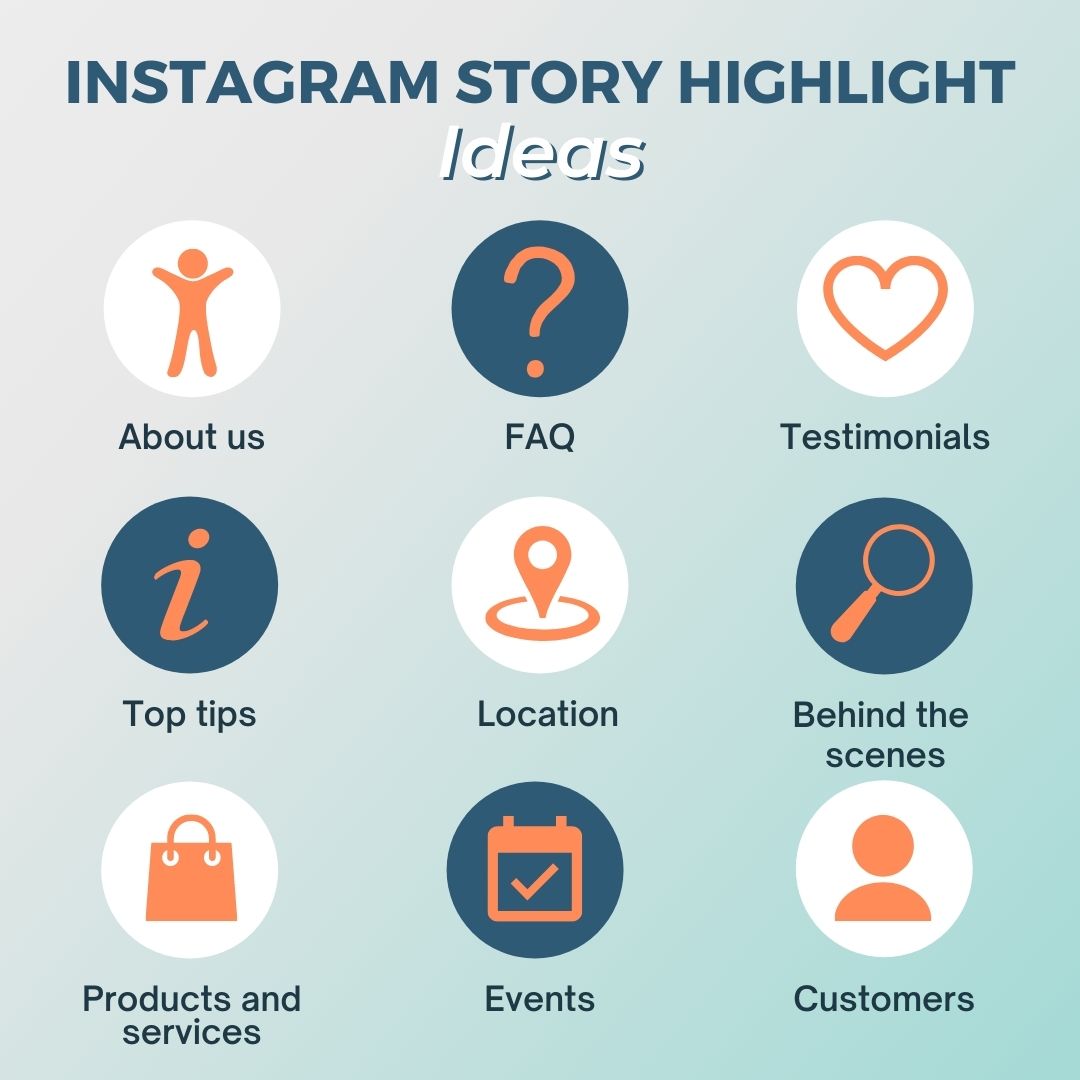 How to create an Instagram Story Highlight
Follow the steps below to turn stories into highlights which provide a polished look for your Instagram account:
 Tap the three lines (aka the hamburger menu) at the top-right of your profile
Select 'Archive' to see your past Stories
Use the drop-down menu at the top to switch between stories, posts and live videos if you need to
Tap on one of the stories that you would like to include in a highlight
Tap 'Highlight'
Choose to either create a new highlight or add to an existing highlight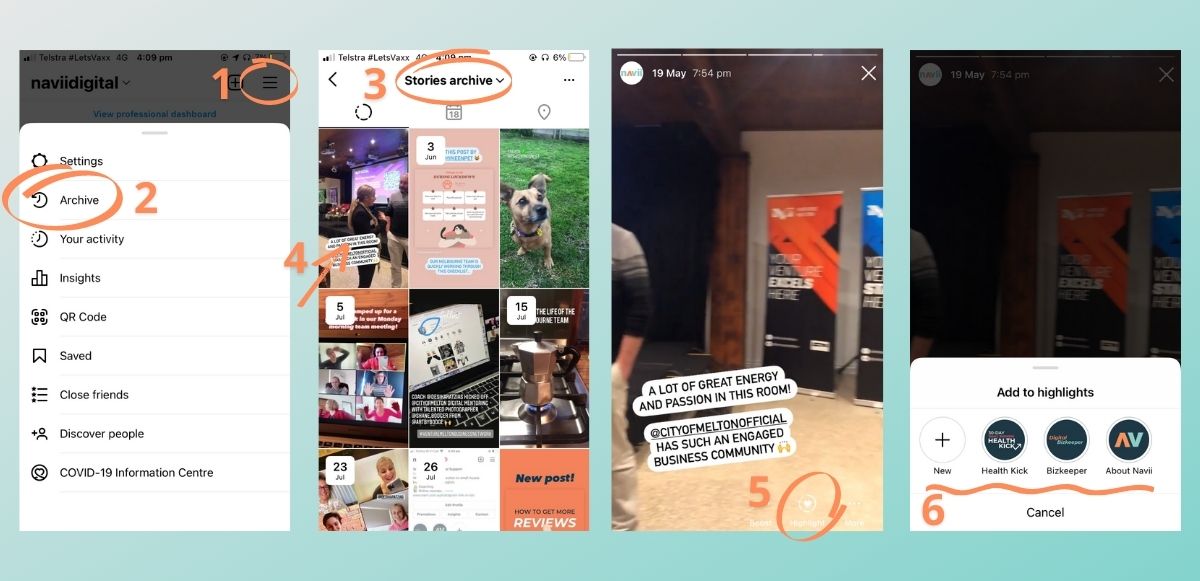 From there you will need to add a name for your highlight. There is a 15 character limit for highlight names so you need to keep it brief. You will also have the opportunity to create a custom cover using an image from your cameras photo album or a cropped section of one of the stories you added to the highlight.
Pro tips:
Make sure you create an introduction for each highlight first before getting into the content/examples/videos/etc because once you upload a story, the stories will be added to your highlights in chronological order from when they were originally posted. So, make sure the beginning of each highlight has context or is self-explanatory from the title.
If you are going to upload a bunch of content for highlight purposes over a short period (e.g. 24 hours), make sure you preface this so users do not unfollow you for posting too much (they may feel that you are posting spam content otherwise).
Use Canva's free highlight cover templates to create beautiful and on-brand images as shown below.
Branding your Highlight
Aesthetics are a big part of maintaining a great Instagram profile for businesses and brands. Creating covers for your Story Highlights is an easy way to maintain consistent branding on your Instagram profile. Canva has a great range of story cover templates that you can edit to match your brand colours and styles.
Here's how to add a custom cover to your highlight:
From your profile, tap on your highlight to open it
Tap on the 'more' button (the three dots on the bottom right-hand corner)
Tap 'Edit Highlight'
Tap 'Edit Cover'
Select the image icon to open the photo library on your phone
Use two fingers to zoom and reposition the image within the round frame. Tap 'Done' when you are happy with the position
If you are happy with the changes you have made tap 'Done' to save.