One of the most common statements we hear from clients is that they just do not have enough time to work on their business, does this sound familiar? When you think of Navii's Digital Academy Membership do you ever think, "I just don't have time to commit to improving my online presence"?
If this seems all too familiar, the short answer is that a Navii's Digital Academy can help you save time and money. Allow our professional team to handle all of the legwork and research for you. Our team is continuously on top of changes to social media platforms and enjoys discovering new tools and apps that make running a business easier.
Improve your digital presence with Navii bite-sized courses
Had enough of Googling for how-to tutorials and making sense of whether what you read applies to your business? Then these are the courses for you. Built for Australian small businesses by our team of practising digital experts, they will save you hours and many wrong turns.
Some of the latest popular courses:
Live Chat and Facebook Messenger
Local Search & Google My Business
Want your business to work 24/7 for you: then automate admin tasks with Zapier
Meta Business Suite
Make Facebook Work for your Business
Make Instagram Work for your Business
After conducting thorough research and testing out the programs, we write the course programs and make recommendations to make your life easier. We don't take any commissions. Therefore every recommendation is made just to spread the good news and make your life easier. Navii provides you with the information you need while filtering out the noise.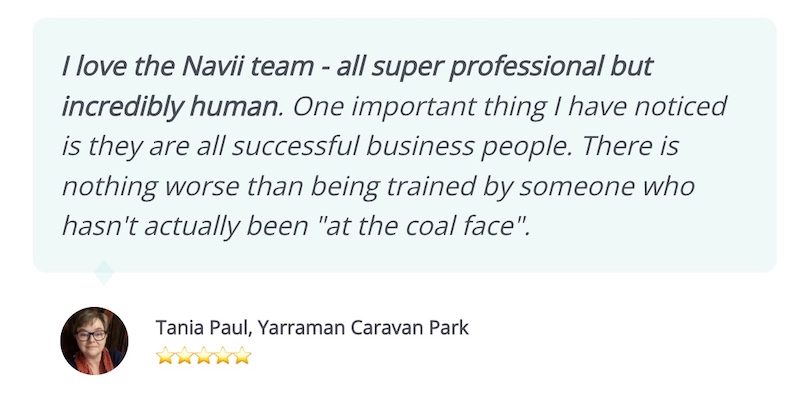 The course library has over 28 self-paced courses that are updated on a regular basis to ensure that they remain current. The courses are straightforward and easy to follow, consisting of text and videos, and provide you with actionable items that can be implemented in your business.
Access to our fortnightly support calls is included in some subscription levels. This is such an under-utilised service of Navii. It allows you to talk to one of our digital experts and have your questions answered.
We recently conducted Digital Engagement Health Checks™, pre and post running a program for small businesses and discovered that businesses who completed one or more courses from the library improved their digital presence by 79%.

The Benefits of a Digital Academy Membership
Becoming a member of Navii is a lot like joining a gym. There are different levels of membership available to suit your needs and budget. Each level includes access to our full course library as well as support.
But most importantly, you need to turn up for it to make a difference. Your business will become fitter, healthier, and stronger by regularly turning up to Navii.
Our challenge to you…
If you already have a membership, set up a recurring event in your calendar each week to use your membership.
Sign up for a Digital Academy membership, and set a strategy in place to maximise your membership benefits.
If you are still not convinced check out our free resources page and download the tools, think of it as your free trial at the gym.
Before long you will see significant change and improved results.