Review your website's Contact Us Page
Your Contact Us page is more than just a way to let people know you're open for business. It acts as your online storefront and is a powerful tool for reinforcing customer relationships and driving traffic to your businesses website. So, it is imperative that you review the Contact Us page on your website to make sure it works for your business and has all the correct information.
When a customer clicks on the 'Contact Us' link in your website's menu, it signals a significant level of intention. They're doing more than simply browsing your website, they're looking for specific information and they expect you to provide it. You can anticipate their needs by designing a contact page that offers enough information to satisfy a range of possible enquiries and encourages potential customers towards a sale.
Every business' 'Contact Us' page on your website should have the following elements:
Opening hours or contact hours
Contact number
Email address (not just a contact form!)
Your street or mailing address
A map showing your location (ideally interactive and includes written directions)
A link to your FAQ page
A note about your COVID operating status (see image below)
Accessibility information
Does your contact page tick all of these boxes? If not, use this checklist as a starting point and the video above to see a best practice Contact Us page example.
Covid update example
See the best practice example of The Resort Store contact us page, which constantly update their website.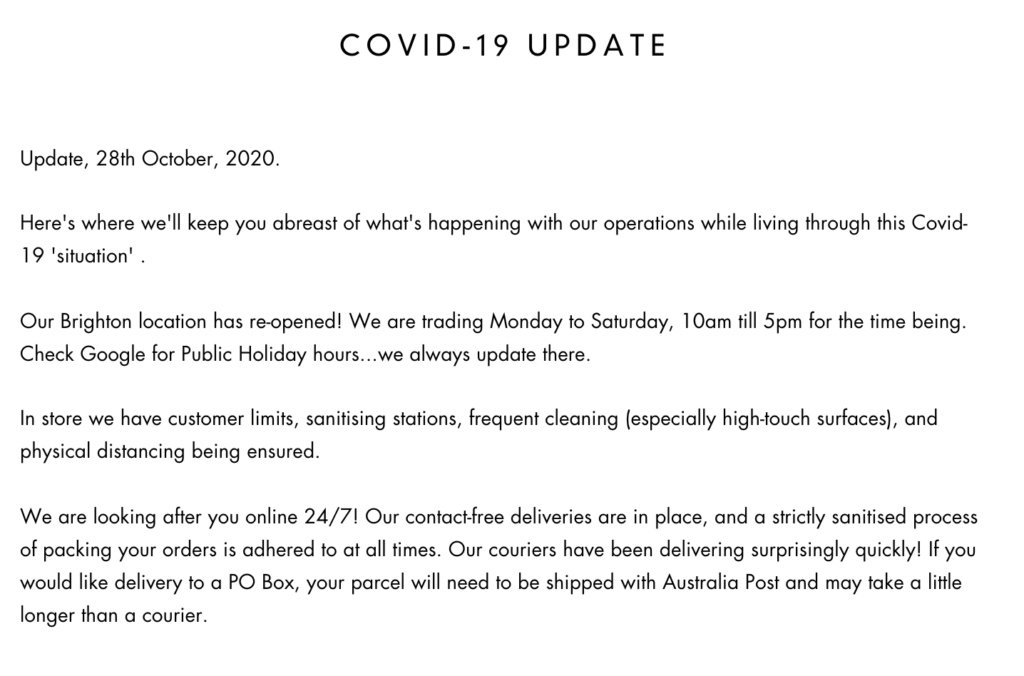 Not sure where to start?
Perhaps you can start off by adding the number one thing most small business owners forget to include on their Contact Us page, which is accessibility information. Socially conscious businesses have a responsibility to ensure they do what they can for customers with accessibility needs.
Potential customers want to be confident that they will not encounter any problems during their interaction with you on account of their disability. The onus is on you as a business owner to make your accessibility information readily available rather than waiting for a potential customer to contact you to request it.
You can provide reassurance by providing detailed information about what steps your business takes to actively cater for customers with disabilities. This should be available in your FAQ's, your contact page and/or your product pages.
Share a link in the comments below or in our Small Business Support Facebook group so we can see some examples of your Contact Us pages.
A version of this article first appeared on tourismtribe.com on 28 August 2021.