You want your team (and yourself) to be efficient when working online. A super simple way to save time in your daily operations is setting up shared bookmarks for your business. When we work with businesses for the first time, this is one of the best time-saving tools that we set up for them.
There is only so much time available to work on online marketing, the last thing you want to do is waste 10 min every time finding the link to your Facebook Ads account or the link to quickly access your Google My Business account. Having all of your most commonly used online resources available in a categorised list means no more Google-searching to try to find the right website or log-in page. You'll never again waste time trying to remember the name of that one website that you use occasionally but not often enough to remember off the top of your head.
This blog and video will show you a great way to get your go-to online resources organised and accessible with the click of a button.
Get organised
You likely have a system for storing your important files and images digitally including a hierarchy of folders and ideally a file naming convention that you and your team know how to use. If you do have this set up, you already know how useful it is to be organised when you're looking for the materials you need. We think that this same logic should be applied to your bookmarks.
Below is a screenshot of the folder structure we use in our bookmarks. We recommend a similar structure for your business.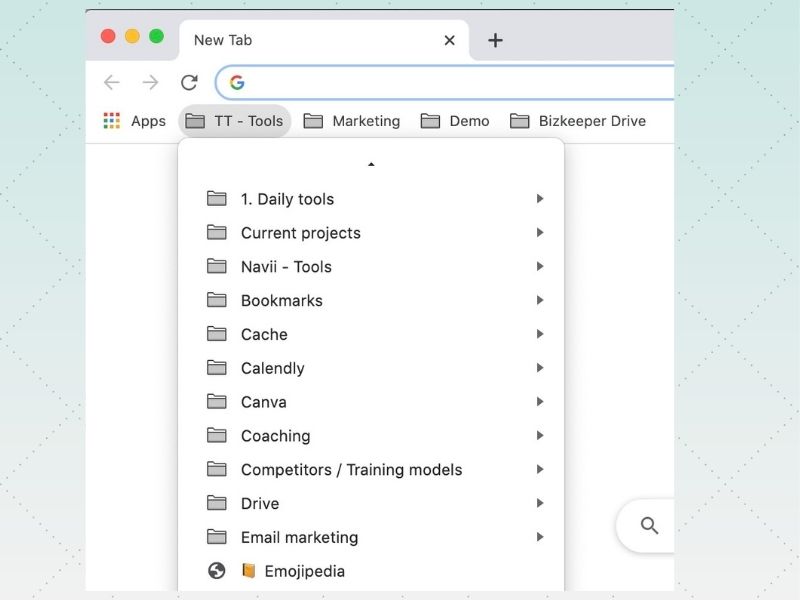 Here is a sample we've put together:
Folder: Marketing

Sub-folder: Facebook

Your page
Your groups
Your business manager
Your Ads manager
Your audiences

Sub-folder: Google My Business

Your dashboard
Your direct review link

Folder: Operations

CRM (customer relationship manager)
Online booking/sales system
Online accounting software
Digital organisers/project management software (e.g. Trello, Monday.com, etc)
Cloud file storage (e.g. DropBox)

Folder: Website

New blog post link
Dashboard link

Folder: Tools

Sub-folder: Images
Sub-folder: Emojis
Sharing with your team
Once you've created your awesome bookmark structure, you can share it with your team so you can all have super quick access to the right resources.
If you use G Suite (Gmail, Google Drive, etc) you'll find a setting on your G Suite admin account > Device Management > Chrome settings that let you set up bookmarks for your whole organisation (or a subset of teams). See the full instructions by Google for more information on this method.

Note: this setup does not allow to have you nested folders (folders within folders).

Another option is to use the TeamSync Bookmarks add-on for Google Chrome. This is free for up to 4 users and this is what we use at Navii. It's awesome!
Tips
Use the bookmark bar and create folders inside the bookmark bar
Organise your bookmarks alphabetically
Name the bookmarks something meaningful
Share the folder with your team
Update/maintain your bookmarks regularly