Have you ever received an unsolicited message from a marketing "specialist" that seemed too good to be true? Perhaps it was a message through Instagram promising to grow your account to 1 million followers in 2 weeks' time? Or maybe it was an email from someone who has performed a free analysis of your website's SEO performance and assures you that if you work with them they will get your website onto the first page of Google.
As tempting as they can be, more often than not, they are disingenuous. These so-called experts will scam you out of your time and money and do little if anything for the visibility of your business online.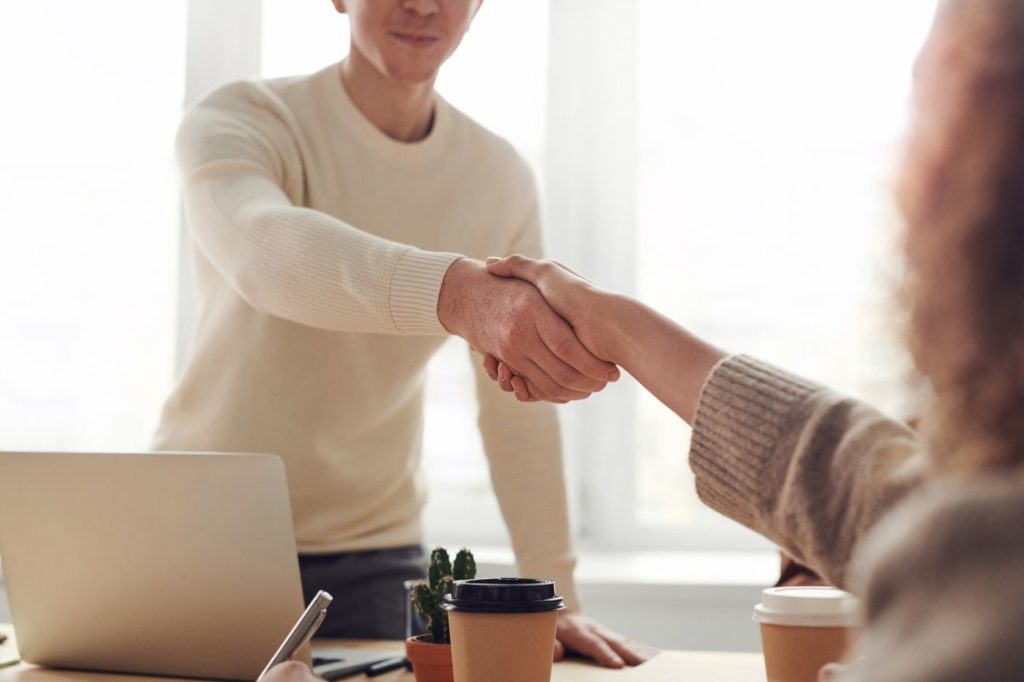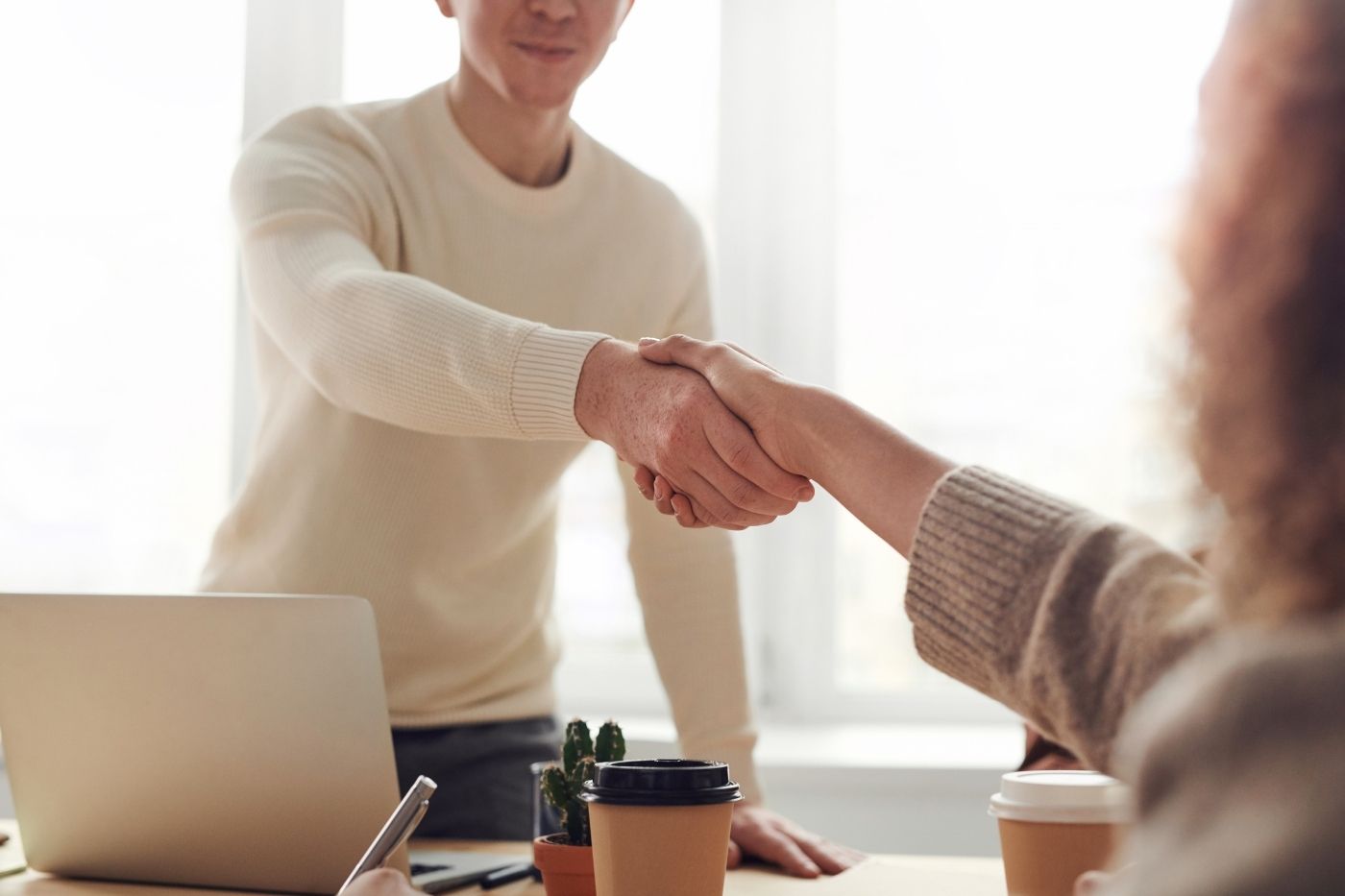 This "Buyer Beware" cheat sheet for small businesses will help you identify the genuine marketing specialists from the scammers so you can solve problems before they happen.
Our cheatsheet:
outlines the red flags to look out for (e.g. big promises with no evidence of prior work)
tells you what to do if you think that the person you're talking to is dodgy
provides a list of indicators that a supplier is high quality and provide a template of questions you can ask them to ensure that the project proceeds on your terms and works for your business.
What to look out for when hiring ANY online marketing specialist
Whether you're in the market for a new website, need new professional photos taken or need someone to manage your Instagram account, you need to feel confident that you are spending your money wisely.
The tips below are blanket rules to help you to filter out the suppliers that are either dodgy or simply not compatible with your business.
Red flags:
These are the signs that this particular "expert" is not a genuine specialist and either does not have your best interests at heart or is just not well suited to your business.
They make promises that seem too good to be true.
They send you a cold email or message. Be additionally wary if:

the message has a lot of spelling or grammar mistakes (this is a trick sometimes used by scammers to get through your spam/junk filter undetected).
the message comes from a gmail or hotmail.

They offer extremely high or extremely low prices.
They make little to no effort to get to know your business, your customers, your audience and the purpose of the project.
They have no portfolio. Or, they do have a portfolio, but:

it features clients that are dramatically different to yours
all their work is 'one-tone' – meaning that all the work looks the same. This suggests they work only according to their own style and will not adjust to meet the needs of individual clients like you.
Green flags:
These are the indicators that the specialist is legitimate and will be a good potential collaborator for your business.
Note that even if the person you find ticks all of the boxes below, you will still need to ask them some qualifying questions before you sign any contracts or send them your first deposit.
Look to their online reviews for validation – if they have a high rating and great feedback from past clients you may be onto a winner.
They can show that they understand your business's objectives, values, audience and your goals for this project.
Ideally, they have experience working with similar businesses in your industry.
They are organised and are a good communicator. They should respond quickly to emails, return phone calls promptly and clearly communicate the terms, scope and schedule of the project they are working on.
The timeline they suggest for the project seems reasonable. Rome wasn't built in a day and neither is a great website. The project timeline should factor in all the different phases of the project which, depending on what the project is, may include a research phase, a content exchange, a specified number of revisions and the final handover date.
You "gel" with them! You want to have a positive working relationship with any specialists you hire to create something on behalf of your business. You need to feel confident that they genuinely have your best interests at heart and feel empowered to communicate your vision openly with them.
Can you trust a cold email?
A cold email or message is any unsolicited e-mail or direct message via social media that is sent to a receiver without prior contact. It is the written version of a cold call. It is a stab in the dark on behalf of the sender who is trying to drum up business. The sender has little to no knowledge of your business but hopes to win you over by promising big wins at a low price.
Sending an unsolicited email is actually illegal in Australia according to the 2003 Spam Act. Businesses must seek consent from individuals they want to send an email to. If you have never interacted with a business or individual before and they start sending you promotional emails out of the blue you should first mark the email as spam or junk and then delete it.
Below are some examples of unsolicited messages from people claiming to be digital marketing specialists.
Example A: Email from a "Web Developer"
Signs that you should not proceed:
The recipient is not on the sender's email database.
The sender uses a Gmail email address.
No website or business name means that you can't conduct any research into their business.
They have requested a phone call but haven't provided a number for you to call them.
Claims that they are inexpensive.

Example B: Email from an "SEO Specialist"
Signs that you should not proceed:
The recipient is not on the sender's email database.
Offers to sell packs of links to boost SEO performance.


Example C: Message from an "Instagram Developer"
Signs that you should not proceed:
A generic cut and paste message that praises the recipient's content generically.
The sender provides no plan for how they will grow your account.
The sender is directing the recipient to a different Instagram account.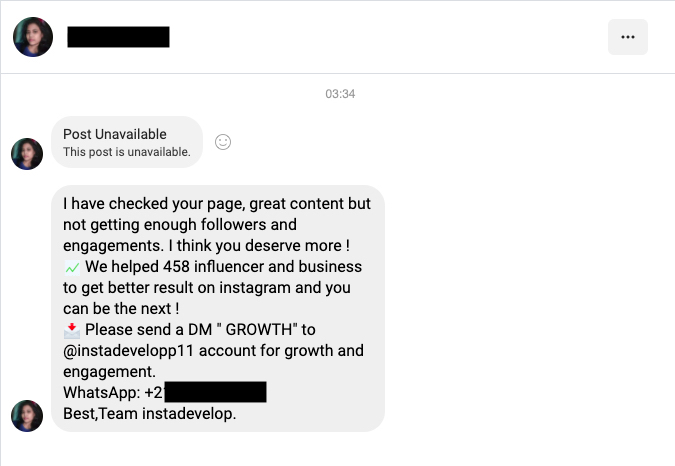 Things to clarify at the beginning of any collaboration with a digital marketing specialist
Project objectives
Budget calculations
What exactly is included in the cost.

How many options and revisions/edits will you need?

 
Payment terms
When are the deposits and final payments due?
Project timeline
When will they get started?

How often will you be given progress updates?

When will you receive the final product?
Who's responsible for what
What content do they need from you?

Consider the images, copy, logos and brand guidelines you will need to share with your specialist.

Who pays for image licensing?
Deliverables
Outline exactly what it is you'll be getting at the end of the process.
Ownership of content
What are the licensing options?
Cancellation agreement
What happens if it doesn't work out?
A Cheatsheet for 5 different marketing specialties
The Buyer Beware cheatsheet provides a list of red flags, green flags and questions to ask these specific marketing specialists:
Website developers
Search engine optimisation (SEO) consultants and blog-writers
Organic social media marketers (for Instagram and Facebook)
Graphic designers
Photographers
You can download the cheatsheet for free below.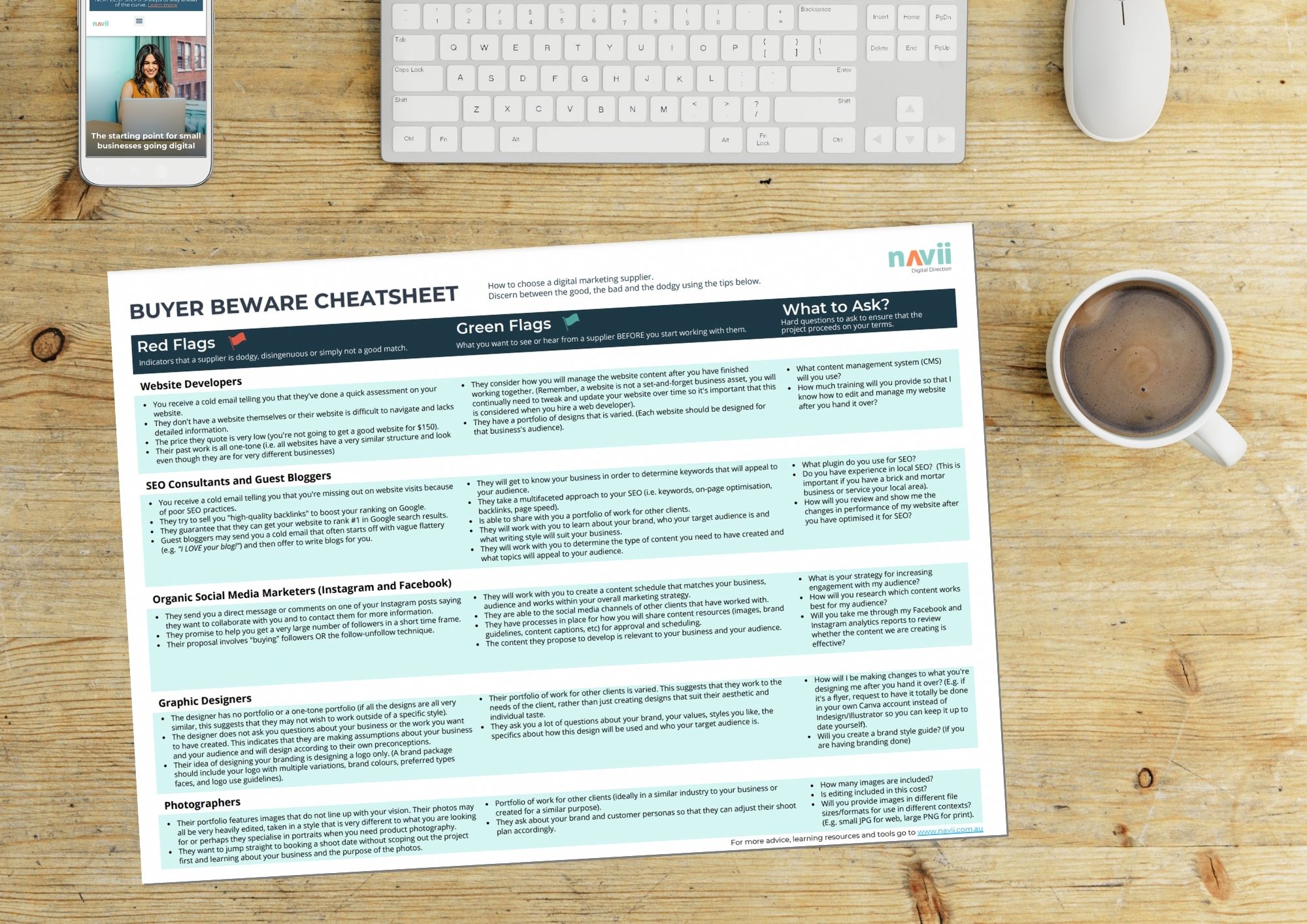 Time to take action:
Your best bet is always to do business with a company with a solid reputation, who will work with you to establish short-term goals, long-term goals and the best plan to get from point A to point B in the most cost-effective manner possible.
See below a list of actions you carry out right now to help you and protect your business when outsourcing you're digital assets:
Look for testimonials and real results, even ask to speak to a prior client as a reference.
Avoid paying in full in advance of the work carried out.
Create a detailed contract that includes deliverables, timelines and pricing.
Avoid giving a stranger access to your website or social media accounts, even if it's a well-intentioned customer who wants to set everything up for you.
Never sign anything on the spot.
Beware of the high-pressure sales tactics.
Download your Buyer Beware Cheatsheet below