Therese Wyland is the owner and manager of Tidy House Work. A Rockhampton, based cleaning business that she has owned and operated for 2017. The Tidy House Work team currently consists of 2 staff plus Mintie, Therese's fur baby.
Therese won a $5,000 grant for her business through the Queensland Business Basics program in round two. She opted to put roughly half of the grant money into her website development and the rest was used for business coaching and development services to improve the business' SEO (search engine optimisation), website copywriting, social media and online presence. Outside of the website development, which was managed by Left Bank Design, the Navii team put 26 hours of work into elevating Therese's marketing skills and online presence.
Therese's Goals for Tidy House Work's Development
Therese had a clear idea of what success looked like for this project. The outcomes that Therese wanted to achieve include:
Launching a new website
Finding new clients and generating more bookings
Expanding the business
Tapping Into a Gap in the Local Market
Prior to receiving the Business Basics grant, Therese had noticed a gap in the cleaning services market in Rockhampton for Professional NDIS-approved house cleaning services. Becoming registered as an NDIS cleaning service provider was straightforward enough and the demand was high, but being found online by this market was the thing that Therese needed support with.
Therese's Journey
The first step in the process was developing the new Tidy House Work website. Working with her coach Mandy and website developer Kerrin from Left Bank Design, Therese was able to define her target market and brand direction. Kerrin then created an effective website that clearly identified Therese's services, prices and process and made the enquiry and booking process easy for her clients. The SEO (search engine optimisation) for the new website emphasised Therese's capacity to provide NDIS cleaning services so that new clients would be able to easily find her in a quick Google search and would immediately know she was registered and approved by the NDIS.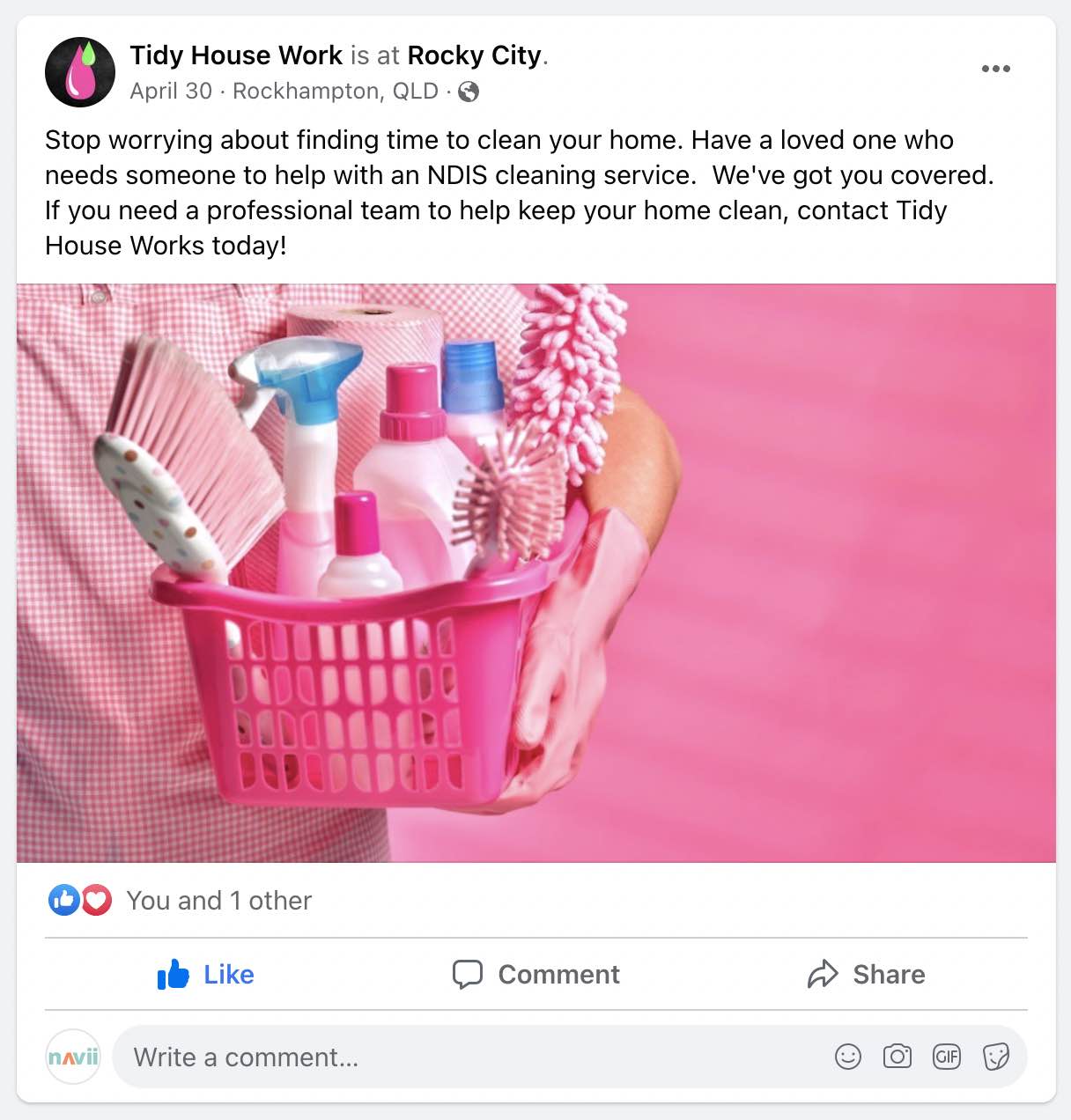 From there, Mandy helped Therese to set up an Instagram account for her business, and improve her current Facebook presence so that her entire online presence was cohesive. Mandy supported Therese in creating a 3-month content strategy for Facebook and Instagram including pre-scheduling posts and images via the Meta Business Suite (previously Facebook Business Suite).
​​Mandy also wrote three blogs to optimise the Tidy House Work website for local search. Therese will be publishing these articles over 6 months when the website as the website traffic grows. Therese also has been given a Google Business Profile review strategy to help increase local search ranking which includes three pre-written posts to publish on the business profile.
The Results
When we caught up with Therese, 2 months had passed since wrapping up her coaching sessions with Mandy and she couldn't be happier with the results she was seeing, saying "I'm getting two new bookings a day, and every time I provide a quote to a new client, I win the job." Therese says this is a big change from before working with Navii, when Tidy House Work had a few reliable clients and a schedule with lots of gaps. Now, only a few months later, Therese is managing a busy schedule of new clients and has even brought on a new team member to help manage the workload.